OILERS LINE UP
STARTING 11: 1. L. Burch, 2. P. Keating, 3. M. Hawkins, 4. E. Earl, 5. N. Dwyer, 6. M. Buckthorpe, 7. M. Lilley, 8. N. Williams, 9. K. Roche, 10. O. Bradley, 11. B. Bolton,
SUBS: 12. R. Macey, 14. D. Hartigan, 15. D. Knight
MATCH SUMMARY
The last match report was Laverstock & Ford, a 2-0 victory on Saturday 16th December 2017. Since then Fawley have seen Hythe & Dibden, Totton & Eling and Romsey Town all postponed at the L.B. Roofing Arena, leaving the players without a match for a month. The distraction of Christmas and new years helped, but with limited training and forced extended break the squad was in danger of losing momentum and match fitness.
Fawley had made three changes to the starting eleven that had beaten Laverstock in December, Steven Green (Suspened), Jon Page (Work) and Dylan Knight. Lee Burch called into goal once more, an experienced and trusted pair of hands. Mark Lilley brought into attack and pushing Ollie Bradley into a more central midfield role. Kieran Roche back in the side for Dylan Knight, who although highly rated, has not played much football in the past 6 months and easing his way back into the squad.
The game started relatively even with neither side creating too much, Andover New Street showed their early intent trying to get their No11 Oliver Yates into dangerous areas as much as possible. Oiler Matt Hawkins stood up the task at left back and kept him quiet enough though.
A flurry of goals in a 10 minute spell for the home side shell shocked New Street, starting with Ben Bolton smashing his effort in from close range around 20 minutes in. Not long later Neil Williams and Mark Lilley linked up from a clever set piece, forcing a scramble in the area of which Captain Elliot Earl finished off. The third came from a corner, Williams with the delivery and Dwyer rising highest at the near post to head home.
The half finished with Andover on top and forcing Fawley deep into their own half, but Lee Burch was relatively untested in goal and the back line stood firm for the best part.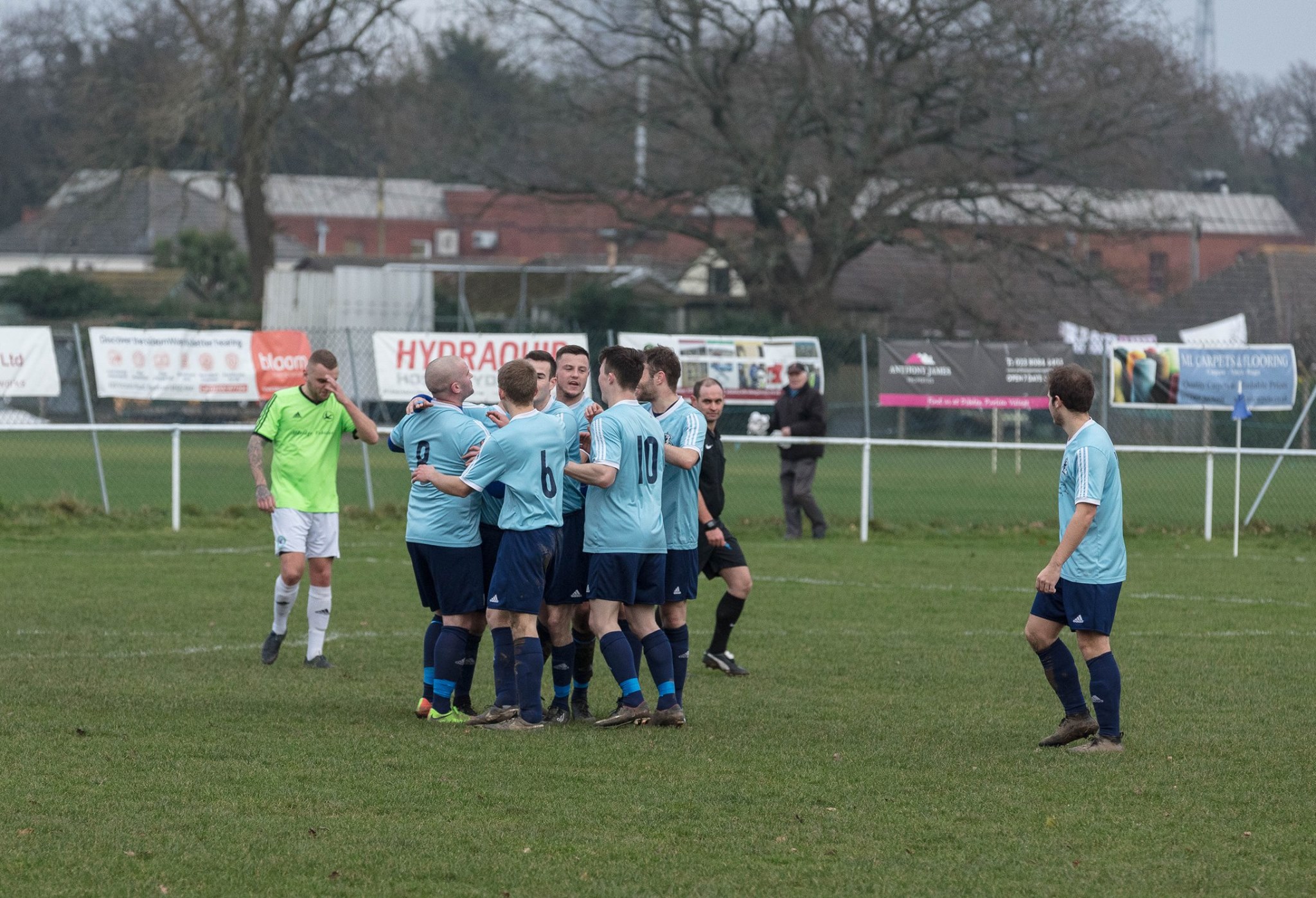 The second half Fawley were determined to not let the away side back into this by coming out with a job done attitude. Andover New Street were clearly motivated to improve on their first half display and try get the next goal. It was Kieran Roche with the best chance though early on, breaking through to the left side, but his effort was just past the far post. A goal for his endless running and hard work was deserved, but not to be on this occasion.
Mark Lilley was again involved in the Oilers next goal, on the break he made his way to the edge of the area and fired at effort at goal. It appeared to take a deflection and catch everyone off guard when hitting the crossbar, falling kindly to the on rushing Ben Bolton who made no mistake burying the chance.
The game fizzled out a bit with both teams making all changes for the last 25 minutes, the pitch getting heavier and legs tiring. Fawley looked lively on the counter attack and were intent on keeping a clean sheet.
Full Time and the oilers recorded their second straight home victory, albeit a month apart, it was a much needed result in their bid to slowly get the season back on track.